Things have been busy, nothing new there!
More of our family has moved up to NW Washington and will soon be increasing in size with an addition of a Grand-daughter early next year.
Our first Winter garden of kale, chard, brussel sprouts, brocoli and garlic that were planted in the first row are doing well, very happy to be in the ground. There would have been many more plants, but our dog "Stella" decided to thin the seedling tray and left less than 50%.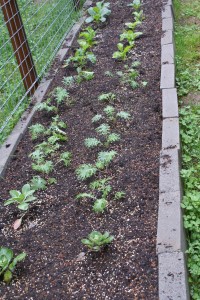 The 120 or so garlic bulbs that I planted (5 varieties) last month have started showing green tips. I'll need to mulch soon with straw to slow them down till next March. It's amazing to be able to garden year round here.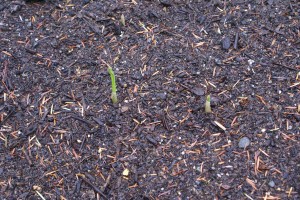 Mike Canfield our incredible designer and master carpenter has been very busy the past two weekends. Our first out-building, a 12×16 foot barn is coming along great. The size was chosen as the maximum foot print possible without requireing a local building permit. It's 1-1/2 stories with a gambrel roof. The siding and roof (materials and colors) will match the house.