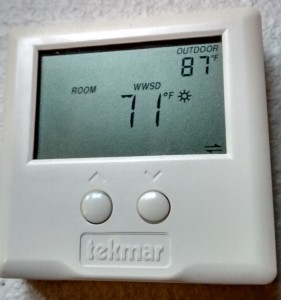 Okay – Spring and early Summer are just too busy.  That is a given.  So, I'm back – we're back – whatever.
The garden is ridiculously abundant.  Yum and yum.  The late Spring and early Summer are too warm…no, wait, HOT!  But look – our fabulous home is cool.  We live in an insulated wonderland.
We have had loads of visitors and it really helps us look anew at the house.  It is a great home.  We are comfortable.
The deer have discovered the deck and all of our plants.  So far, so good.  Their favorites seem to be the nasturtium leaves – not the flowers.  Okay…have at 'em.  They did nibble my new curly willow and that is not okay.  It is now in the protected garden area.
The frogs are enjoying the small pie pan watering hole.  Next year they must have a proper pond…that's going to happen.
And a boat – yup, gotta have one.  For us, not the frogs!
Have a great summer – go hug a tree.