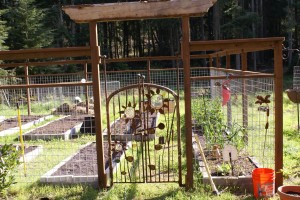 Plants overwinter here in the PNW.  That is something we never hoped for in Colorado.  The garden has been activated for the spring and summer.  Lots of planting.
Lately, the weather has been conducive to outdoor activities and gardening is at the top of the list.  I tend to migrate toward the ornamentals.  He tends to cultivate vegetables and herbs.
Yesterday, we attended the Island Garden Club plant sale.  I came away with a tomato and some strawberry plants.  I also bought more fuchsias.  I love fuchsias!  He came away with a lovely flowering vinca.  Good thing we complement each other!  Unfortunately, the tomato had a badly bent stem, unbeknownst to me, so I don't hold out much hope it'll survive.  I planted it deep and wrapped plastic around it.  The plastic was recycled from a large bag of tp from Costco.  He laughed!
Another beautiful day on tap.  Tickets to one-act plays this afternoon.  Hmmmm.  Sun or indoors?  Sun or indoors?  It'll be a hard call.  Enjoy your day!