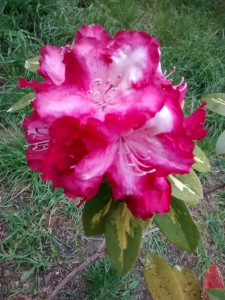 We have planted several rhododendrons.  At the moment, most of them line the driveway.  Some of them have bloomed thus far.  Right now, this one has burst forth.  The leaves and the flowers are variegated.  It doesn't get much better than that.
The garden is exploding.  A cold frame was built and seedlings have gone from the garage, to the cold frame and into the garden.  The Master Gardener found rabbit poop in the garden – not okay.  He is now in the process of adding a strip of wire to block their entry.  The deer have also taken notice of the expanding plant zone.  Yesterday, we watched as one just wandered at the edge of the new plants.  What was it thinking?
"Where are the dogs?"
"Do I dare stroll in there and nibble?"
The deer munched on the new spring grasses and left the valuable plants alone.  Many of those plants have wire cages – a must.
Last weekend, we drove around to several nurseries on the Island.  We visited a new one to us.  The plants were spectacular.  Of course, we bought a few things.  Tomorrow, they'll go in the ground.  The weather is slowly warming and we even saw 70's in the forecast.  Perfect!  This is an exciting time of year.  The days have lengthened and we appreciate those added hours of sunshine.
Go dig in the dirt.  Plant a few seeds.  I want to make some seed bombs with my grandson and toss them hither and yon!  Good times.