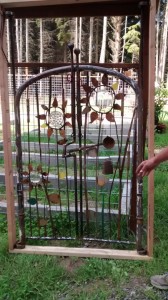 Last post – I said summer was a busy time.  Yup.  It's been awhile since I posted and so much has been happening.
The picture is of our "new" repurposed garden gate.  Isn't it just splendid?  It began with an idea and an old bed post.  Our fabulous Mike took it and ran wild!  Isn't it spectacular?  Next on the list for the garden is to finish the beds and then start adding bits of rusty metal here and there.  I also have a collection of large garden flags and I do believe one of them needs to go up today.
The weather on the Island has been warm and wonderful. To our great delight, the nights have cooled to the point that the mosquitoes have begun to disappear.  Neighbors told us this has been the worst mosquito year since they moved here – 1989.  That is very good news.  Pesky buggars one and all.
Garage sales, thrift stores and storage units have been visited and many items purchased.  We now have a new kiln, drill press, another work bench and more.  The garage is being reorganized.  It will become a workroom one of these days.
We are chasing net zero.  So close, so close.  Good times.