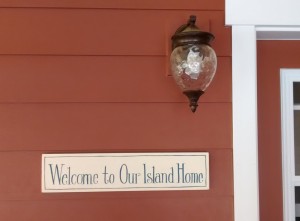 The garden fence is nearing completion – need to get the 2nd gate constructed.  I did find an old metal headboard and I am hoping it will work.
Four of our Turkish pillow covers have been framed and are now hanging in the entryway.  They are stunning and very colorful.  The entryway shelving/basketry "thing" has been put together and is in place.  Now, we need to go through all the papers on the counter; sort, toss, save, organize and get them off the counter.
I found a gorgeous quilted runner for 1/2 price at the thrift store; $4.  It now adorns the oak buffet that I am using as a linen closet.  I also ordered four more window shades; three for upstairs and one for the great room.  These are top-down, bottom-up, cordless shades.  We have an identical shade in the master bedroom and it is terrific.  I am not a fan of window treatments, but when these are not in use, they are basically out of sight.  I also bought a couple of vintage hand-crocheted doilies for the new dining table and the upstairs end table.  I am sure I have vintage doilies packed away, but who know.
Our daughter was here for a couple of days and concurred that the smaller of the loft rooms makes a more comfortable sleeping area.  Decision is still out on the need for a folding screen of some sort.
The boss bought himself a cement mixer at a garage sale./  Concrete projects will ensue.  Hypertufa!  Stepping stones!  Sculpture!  Fun!
The search for a boat has seriously commenced.  I know squat about boats.  This could be another blog in itself!