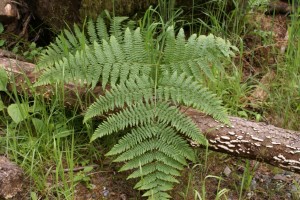 Summer burgeons forth with a spectacular morning of sunshine in the treetops.  The view from upstairs is truly lovely.  The solar panels will be busy today.
Concrete has been poured and the garden fence posts are in.  Today, Mr. Fabulous, our #1 Master Carpenter, will continue working on the garden fence.  He has secretive plans for an extraordinary welded garden gate.  I cannot wait!
Before the concrete was poured, our grandson discovered frogs in the deep holes.  Oh my.  Rescue was in order.  I grabbed the fish/tadpole net and managed to snag the frogs.  Oops, we had happened upon a frog love rendezvous.  Let me just say that nothing stops frog lust.  We gently relocated the frogs to the forest and went back to get the frogs in yet another post hole.  Yup, ditto the above.  These were tree frogs and they are gorgeous.
Tadpoles.  They are growing.  The other day I dropped in a very small worm and it was eaten with vigor.  Aha!  The worm search was on, but I had difficulty finding more specimens.  I thought about the abundance of spit bugs on some of the plants.  I gathered a few and they were immediately eaten.  They are, however, a lot of work for not much meat.  Yesterday, grandson and I drove to the pet store and bought a few meal worms.  The owner was very happy we had rescued a few tadpoles and that we were raising them.  Good vibes.  Back home, we dropped in a meal worm and the tadpoles were on it, but seemed to be having difficultly with it.  So – we turned the whole meal worm into tender filets and the tadpoles responded like vicious alligators!  Who knew?